Viking Invasion™ Video Reels
Defeat the Vikings to reap the rewards with the incredibly unique Dice Seeker: Viking Invasion™! Viking Invasion™ is one of three games part of the Dice Seeker™ family of games delivering a persistent-style gameplay experience and a two-part free games feature designed to award enormous wins when achieved.


Cabinet Configurations
Viking Invasion is offered on the sleek Phocus® S104 hybrid and Phocus® U104 upright cabinets. A variety of placement configurations are available including round 3-pods, 4-pods and 6-pods, back-to-back 4-packs, 6-packs, and 8-packs, triangular and rectangular 6-pods, and 2-pack and 3-pack wall placements. Contact your Account Representative to view all cabinet configuration options.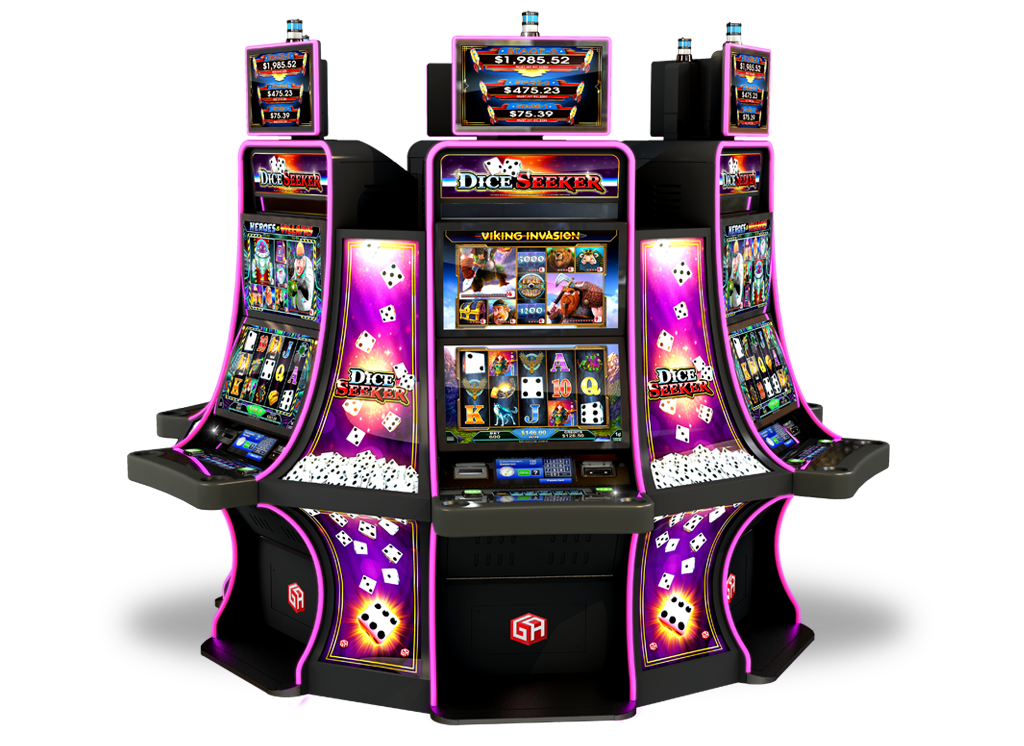 Game Details
The object of Dice Seeker is to reduce the hit points associated with characters on the top screen. When the vibrant die – numbered 1 through 6 – appear on any of the five reels, the number on the die will strike the character above its corresponding reel with an electrifying hit! Once the character's hit points have reached zero, the character will burst to reveal a credit prize.
Base Game and Dice Features:
When Die symbols – numbered 1 through 6 – appear on any reel, the number on the Die will "hit" the symbol above its corresponding reel.
When the symbol's "hit" points have reached zero, it will burst to reveal a credit prize.
Mega Block symbols take up a 2x2 block of reels and Super Mega Block symbols take up a 3x2 block of reels, awarding larger payouts and free games.
Dice feature occurs approximately every 8 - 10 spins.
Free Games Feature:
Bonus symbols on reels 1, 3, and 5 trigger the feature and award 8 free games.
Like the base game, Die symbols appearing on any reel "hit" Treasure Chest symbols and Coin Mound symbols to reveal credit prizes and free games.
When all symbols burst and the Free Games feature is still in play, the Treasure Trove continues to award even larger credit prizes and/or additional free games.
Configurations:
Up to 243 ways to win.
30 and 50 credit cost to cover.
250, 500, and 1,000 max bet options.
Multi-denomination capable from 1c to $100.
High denomination option available.