LAS VEGAS, March 23, 2023 /PRNewswire/ -- Gaming Arts is poised to showcase one of its most visually stunning and innovative libraries of gaming content ever, at the 2023 Indian Gaming Tradeshow and Convention. With the momentum from popular hits such as Brian Christopher's Pop'N Pays More™, and the world's most-advanced ETG, Casino Wizard® VIP, Gaming Arts continues to support its tribal partners across America and will launch many new and exciting technologies at IGA 2023.
Gaming Arts is poised to showcase one of its most visually stunning and innovative libraries of gaming content ever!
Thor's Thunder This year at the Indian Gaming Convention and Tradeshow, the Gaming Arts booth #829 will be brimming with stimulating game graphics, embracing soundtracks, and thrilling game mechanics.
First up in this incredibly impressive lineup is Thor's Thunder™. Displayed on the Vertx® Grand 49 portrait cabinet, this game features cash-on-reel-symbols, an exciting storm fever mode, and thrilling free games. Customers will love the many opportunities for big wins as they interact with Thor and feel his wrath or favor, as he shocks with big wins through the use of his mighty hammer. Thor's Thunder™ will be striking casino floors everywhere this summer and proving that "lightning can indeed strike twice!"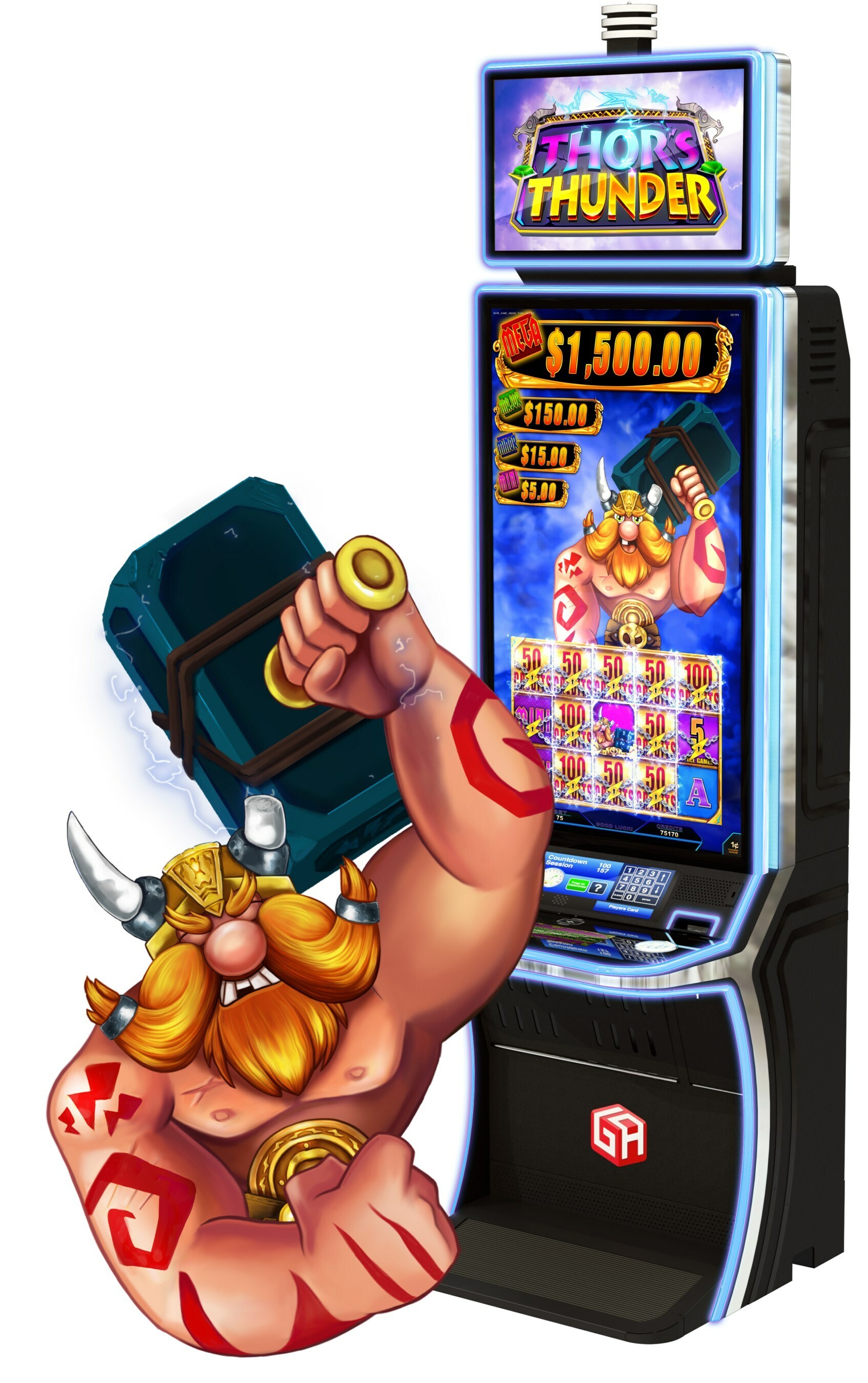 Building on the excitement of the original Cyber Dragon™ comes, Cyber Dragon Gold™. This version expands upon the original and adds more excitement, free games, and chances to defeat the Cyber Dragon and bring home the Gold. Also featured is the visually stunning new series, Winning Wings, where fantasy takes flight. Winning Wings encompasses two titles, Butterflies™ and Fairies™, where both themes allow the player to feel as if they are one with nature and bring an exciting new twist to the classic, Hold and Spin feature. Bring a hardy appetite for Big Fat Dragon™, players will delight in the visual whimsy of this game and will love the riveting opportunities for Big Wins! All of these exciting new titles are featured on the beautiful Vertx® Grand Cabinet.
The Phocus Dual Screen Cabinet is brimming with excitement over its newest series, Lucky Pick™, featuring titles Leprechaun™ and BumbleBee™. These unique persistent punch board style games are loaded with credits, extra free games, random wilds, and win multiplier increases which lead to incredible win opportunities for the player.
The Phocus® Dual Screen featuring the HaloTop® wheel will also showcase a new line-up of games with the highly anticipated Spin It Up™ series. Stack 7s and wilds in Triple Stack 7's™ or stack gold bars in Giant Gold Bar™ and win your opportunity to spin the exciting Super Wheel Bonus where the player continues to spin until a collect symbol hits and where players can win great awards up to the Grand Jackpot!
Prominently on display will be the latest in innovation in the bingo and keno spaces with the world's first TITO enabled self-serve EZ-Keno Kiosk. "Super Win" and "Super Promo" technologies for bingo and casino promotions will also be highlighted at IGA.
Adding to the excitement of IGA, Gaming Arts will also be hosting a Slot Tournament at their booth featuring the newest slot themes in a fun and exciting challenge. This Slot Tournament will happen on Wednesday, March 29th at 11:30am and 2:30pm. Sign-ups will be happening at the booth earlier in the day. Everyone is encouraged to sign up.
Jean Venneman, "I look forward to seeing our tribal customers and displaying what Gaming Arts has created. Gaming Arts values its partnerships with the tribal community, and we are dedicated to demonstrating our commitment to them by offering exciting new games and innovative gaming solutions for their floors. I am confident that IGA 2023 will be a great show for all."
About Gaming Arts
Gaming Arts, LLC is an award-winning end-to-end gaming equipment technology provider of electronic gaming machines, electronic table games, bingo, keno, and emerging technologies. Gaming Arts is privately owned and operated, with its business headquartered in Las Vegas, Nevada, and is licensed in over 150 jurisdictions. To learn more, visit www.gamingarts.com or call 702.818.8943.
Media Contact
Bree Cardona
Marketing Manager
725.223.4592
SOURCE Gaming Arts, LLC